19 Sep

Why We FITE

Skincare is essential for maintaining a healthy lifestyle. Treatments and sessions are important, but so is having a daily skin routine. That's one of the big reasons why Skin Deep stands behind DermalogicaⓇ. They're not just your typical line that can be found in any store. From shaving, cleansing, to sun protection and beyond, they have every area covered with state-of-the-art products.

But there's more to DermalogicaⓇ than just skin care. They have a cause.

One might think of economic opportunity as finding employment or starting a business. On the surface level this is true, but it's more about the effects this has. Economic opportunity makes you not reliant on others. It gives an individual more freedom and control over their destiny. It turns parents into providers. Social gaps can be bridged and communities are stronger when there's an abundance of economic opportunity.

Having a job isn't just finance and socio-economics either. Studies have shown that underemployment and unemployment have a huge hidden cost. People who are in these situations tend to develop more stress, a lower self-esteem, and are three times more likely to suffer from depression. When economic opportunity shuts the door on someone's face, there's a lot more lost than what can be measured.

So what does this have to do with a skin care line?

Gender income disparity isn't just an issue in the U.S. It's a problem all around the world. That's why DermalogicaⓇ co-founder Jane D. Wurwand started FITE. FITE stands for Female Independence Through Entrepreneurship. It's an initiative that provides vocational training, business loans, and scholarships to women on an international level.

Wurwand is also no stranger to creating opportunities and developing careers. Over the last 25 years her International Dermal Institute has been providing post-graduate skin care education. The institute has 38 training centers around the world and currently turns out around 75,000 new Professional Skin Care Specialists every year. FITE has also recently developed an online Entrepreneurial Accelerator to help guide small salon-based business grow and achieve financial success.

And it's not just women working in the skin care field that FITE aids. Loans provided by the initiative have helped women in developing countries who farm, own shops, manufacture, and do other lines of work. These loans have provide their businesses with additional resources, and in turn changed their lives. Check out the YouTube video find out more about this.

Economic opportunity and equality is essential for a better world. Things might not change overnight, but if we work collectively, we can push things in the right direction. At Skin Deep, we help raise money to give women entrepreneurs leverage when practically everything is working against them.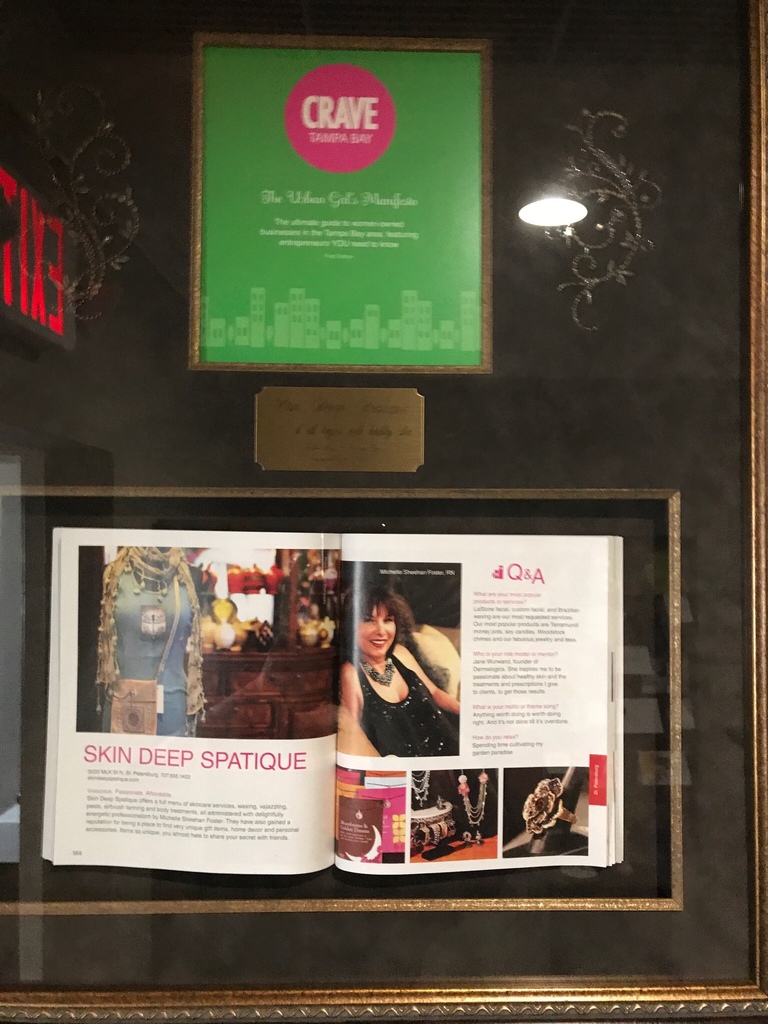 That's why in 2012, we donated $500 to start a loan for FITE. This loan still continues to this day as it gets repaid again and again. Along with this donation, we also gifted our clients with a copy of the Tampa Bay edition of Crave. The publication is a 250 page book that has features on businesses ran by women (including Skin Deep) in the bay area. The CRAVE COMPANY is dedicated to capturing the voices of female entrepreneurs to be seen, heard, and to connect.
Contact us today to set up a session or treatment, and we can also get you on track with some great products, with a great cause, for your daily skin routine. DermalogicaⓇ even has products that you purchase them,  proceeds go to a woman in a country and profession of your choosing. Act global by thinking local.