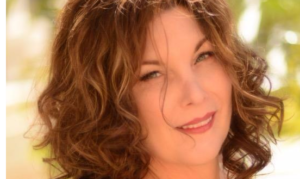 Michelle Sheehan Foster
Skin Care Therapist & Registered Nurse
If Dr. Evil was a woman and ran a day spa, she'd probably be Michelle Sheehan Foster. The head of her Not-So-Evil Spatique empire since its inception, Michelle didn't ask for the 100 million dollar ransoms akin to Dr. Evil. Rather, she demands and delivers the best skin care possible for her clients. Though affectionately named "The Hammer" by her children, she has a gentle touch, an expert technique and a warm, friendly personality. Neither evil nor super-genius, she strives to learn anything and everything about skin care, and she is undoubtedly one of the best in her field. Her staff may be the gears that make Skin Deep Spatique run, but she is the engine that turns them.
---
Jackie
Jackie, a M.O.M (Master of Merchandising) agent of M.O.T.H.E.R. (Members Of The Highest Expertise in Retail), is our product scout and a veteran member of the Skin Deep team. Her sharp eyes and keen sense of trends locate the gifts and other treasures found in our store. Skilled in stunt driving (to piano lessons or school pick ups), when she is not busy raising her children, she is helping to raise Skin Deep to the standards of excellence for which it is known.
---
Sandi
Sandi, who loves bringing people together, lends her top-notch hospitality skills to our spatique. With open ears and a big heart, Sandi is a great listener and loves buttered popcorn. Pop on into Skin Deep, and her kind personality will surely brighten your day.
---
Alex and Amanda
Every top secret organization needs masters of technology to keep their computers running in tip top shape… Alex and Amanda are the MacGyvers of the computer systems at Skin Deep. From paper jams to hypersensitive USB cables to finicky Point of Sale systems whose hobbies include randomly breaking. The 'A' Team is always on standby to fix computer issues at Skin Deep.
---
Megan
Though she is no longer part of our team, we wish our longtime team member Megan well as she pursues her dream job as a nurse. She currently works at Bayfront Hospital delivering postpartum care for moms and newborns with Michelle's good friend Dee.
---
Carla
Bio-to-follow
---
Isabelle
Bio-to-follow